Young Land Professionals
MassLand's Young Land Professionals is a group of about 130 land trust and state agency conservation professionals in their first 10 years of their careers. An organizing committee of 10 members formed in 2017 to create networking and training opportunities for YLP's across the state.
Committee Members:
Abby Hardy-Moss, Greenbelt, President
Nick Rossi, Mass Audubon, Vice President
Rachel Calderara, Wildlands Trust, Communications Manager
​Mariah Auman, Berkshire Natural Resources Council
Erik Boyer, Wildlands Trust
Matt Cannon, Chatham Conservation Foundation
Ashley Davies, Sudbury Valley Trustees
John Gioia, Executive Office of Energy and Environmental Affairs
​Jack Sidar, Buzzards Bay Coalition
If you are interested in joining, contact Carolyn Sedgwick at csedgwick@massland.org.
Events
Februray 21, 2019
Winter Young Land Professionals Gathering
2:00 pm-5:00pm
Bolton, MA
Please join us for the winter networking gathering of the Massachusetts Land Trust Coalition's Young Land Professional group! We'll be meeting at the Nashoba Valley Winery in Bolton.
Nashoba Valley Winery is a 52-acre orchard, winery, distillery, brewery, restaurant, and function center protected with an Agricultural Preservation Restriction (APR). This event will feature information about the MA APR Program, beginning with presentations by Delia Delongchamp, APR Stewardship Coordinator at the MA Department of Agricultural Resources, and Richard Pelletier, owner of the Nashoba Valley Winery, followed by a private walking tour of the property. We'll close up the event with a social hour at the winery's tasting area, where attendees can purchase wine, beer, or spirits tastings.
Please register here!
Hosted by the Sudbury Valley Trustees
November 7, 2018
Fall Young Land Professionals Gathering
2:15pm-5:00pm
New Bedford, MA
Meet and mingle with other MassLand Young Land Professionals on a private walking tour with the National Park Service, followed by a social hour at Moby Dick Brewing. Home to the Buzzards Bay Coalition and the New Bedford Whaling National Historical Park, New Bedford was once the biggest whaling port and richest city per capita in the world. Learn about the city's entwined history of whaling, the underground railroad, and the life of Frederick Douglas on a walking tour of downtown with the National Park Service. Then join us for a social hour at Moby Dick Brewing, a new local brewery and restaurant offering their own craft beer, pub fare, and a full bar. For more information and to register, please click here.
Hosted by the Buzzards Bay Coalition and Wildlands Trust
July 26, 2018 - July 27, 2018
A group of MassLand's Young Land Professionals gathered at Greenbelt's headquarters, the Cox Reservation. Individuals from Mass Audubon, the Appalachian Mountain Club, Essex National Heritage Area, The Trust for Public Land, Dartmouth Natural Resources Trust, and Greenbelt gathered for a guided tour of the property (under a spectacular double rainbow) and a cookout. Guests lingered around the fire pit making s'mores, sharing interests, and brainstorming new ways to work together in the future. Thank you to Greenbelt for a successful event.
May 17, 2018
MassLand's Young Land Professionals Event at the Housatonic Flats and Barrington Brewery in Western Massachusetts was a great success! Sixteen individuals were present, including the speakers, Christine Ward with the Great Barrington Land Conservancy and Mackenzie Greer with the Berkshire Natural Resources Council. The speakers discussed conservation work at the town and regional scale, as well as how they became involved in the field, helpful tips for navigation, and further opportunities for follow up. Thanks to all attendees and especially Mariah Auman with the Berkshire Natural Resources Council, who coordinated this great event.
March 23, 2018
About 40 Young Land Professionals traveled out to the Club House at Cook's Pond in Worcester, where Greater Worcester Land Trust's Colin Novick spoke, offering inspiring advice to the next generation of conservation leaders. The group then gathered at the Residence Inn in Worcester for a networking hour.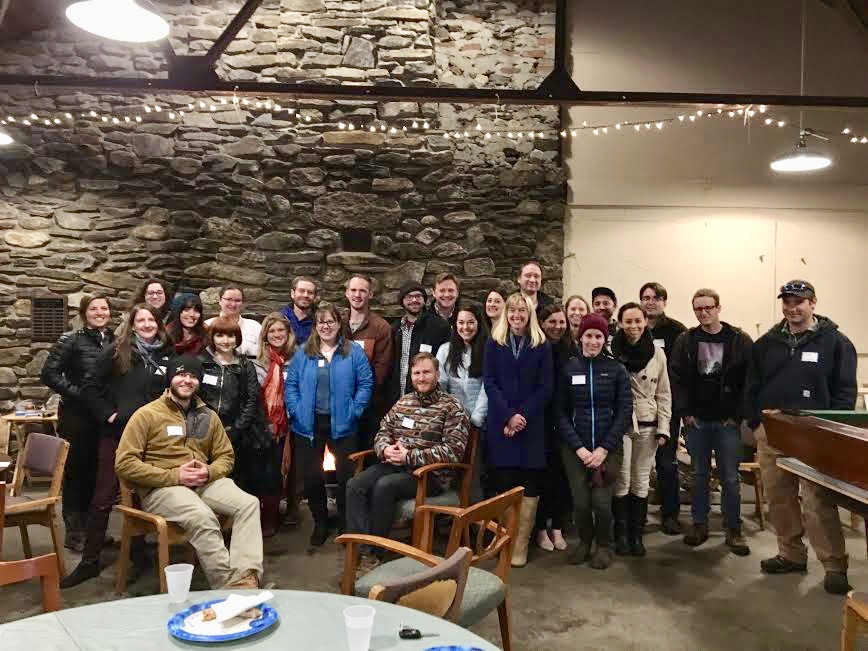 Meeting Minutes